We serve the Philadelphia area including Delaware County, Chester County, Philadelphia County, Montgomery County as well as customers in Delaware and New Jersey. We can supply a dumpster to you for large scale metal recycling or you can come to us. Recycle your scrap with us for instant redemption.
Scrap Metal Recycling Services
Accurate Metals purchases ferrous and non-ferrous metals. Deliver your scrap to us or request a dumpster for large volumes and be redeemed promptly.
What are Ferrous Metals?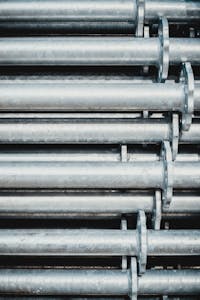 Metals containing iron such as steel and iron alloys such as stainless steel.
Mild Steel – lowest carbon content of 0.1 to .3% and iron content of 99.7 – 99.9%. Used commonly for engineering and non-specialized products.
Carbon Steel – higher carbon content of 0.6 – 1.4% and iron content of 98.6 – 99.4%. Used to manufacture cutting tools such as drill bits and knives.
Stainless Steel – or corrosion-resistant steel, consists of iron, nickel and chromium. Used commonly for cutlery and surgical instrumentation.
Cast Iron – carbon content of 2 – 6% and iron content of 94 – 98%. Very strong steel but brittle. Commonly used to manufacture claw-foot bathtubs, patio furniture, engine blocks and manhole covers.
Wrought Iron – almost 100% iron. Commonly used for railings, gates and fencing.
What are Non-Ferrous Metals?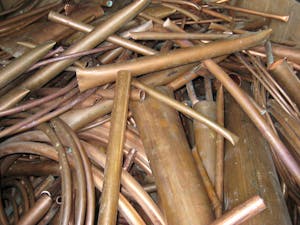 Aluminum – an alloy of copper, manganese and aluminum. Very lightweight and pliable. Used in window frames, gutters, roof flashing, and aircraft parts.
Copper – A naturally occurring element. Copper has the best electrical conductivity of all other elements after silver. Also a thermal conductor. Used for wiring, tubing, and plumbing. Also commonly alloyed with other metals such as zinc, lead and tin to produce items such as water valves.
Brass – A combination of copper and zinc. Commonly used for ornamental purposes such as door knobs and within electrical fittings.
Silver – Another naturally occurring element, but mixing with copper creates sterling silver. Used for jewelry and within electrical fittings.
Lead – A naturally occurring element commonly used in battery plates that function as electrodes. Also used as protection against X-rays.
Tin – one of the most expensive non-ferrous metals, making recycling tin very important. Used to coat steel cans, manufacture springs, glass coating and in car parts.
Recycling Process
Sorting – All metals must be separated from each other by "grade"
Baling and transporting – Non-ferrous metals are compacted or containerized for transportation to smelting plants.
Shearing – Hydraulic shears used to cut metals into manageable size
Separation – magnets used to separate ferrous contaminants. Electrical currents, air, and liquid floats also used for further processing.
Melting – Each grade of metal is melted down in a furnace, poured into molds and shaped into ingots to be used as feedstock to manufacture new products.