Accurate Recycling provides Philadelphia residents and businesses with the most reliable dumpster rental service available. For 4 generations, Accurate has been widely recognized for our prompt and consistent dumpster rental service in the Philadelphia region.
Our same-day roll-off dumpster rental service provides contractors, homeowners, businesses, and government agencies with a simple solution to their waste removal needs. Whether you need to remove construction debris or are performing a yearly cleanout, Accurate is here to help.
Common Reasons to Rent a Dumpster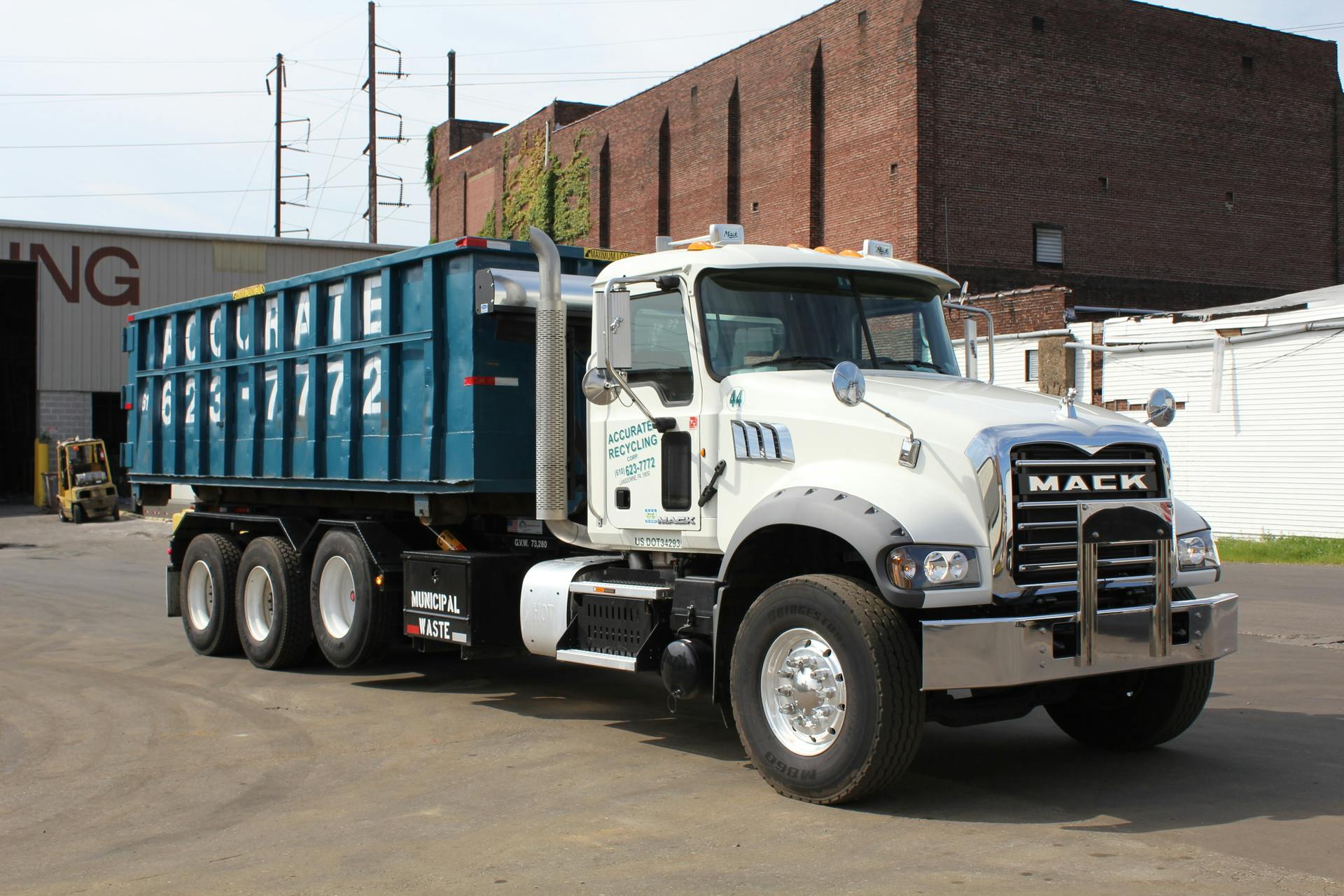 Accurate Recycling's roll-off dumpster rental service can be used to dispose of a wide variety of waste materials in Philadelphia. If your waste removal needs fall into any of the following categories, contact Accurate to schedule a dumpster drop-off today.
Construction & Demolition Waste
Waste Paper
Household Junk Removal
Estate Execution
Landscaping Debris
Soil
Concrete
Scrap Metal
Disaster Recovery & Remediation
High-Volume Waste Compactor
Dumpster Sizes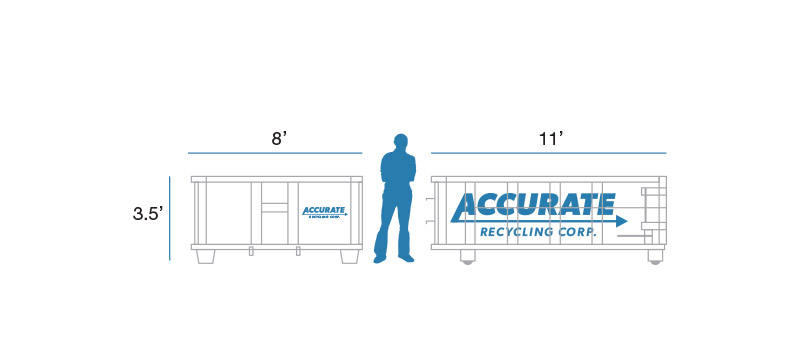 Great for small-scale renovation project, such as garage clean-out or small addition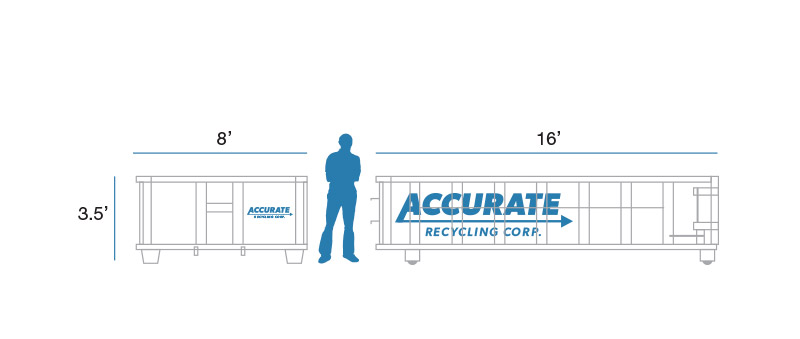 Mid-small-scale renovation project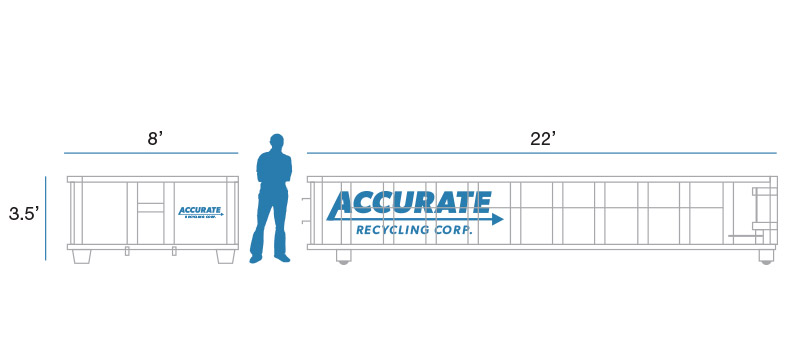 Small residential or commercial jobs such as windows, clean-outs, renovations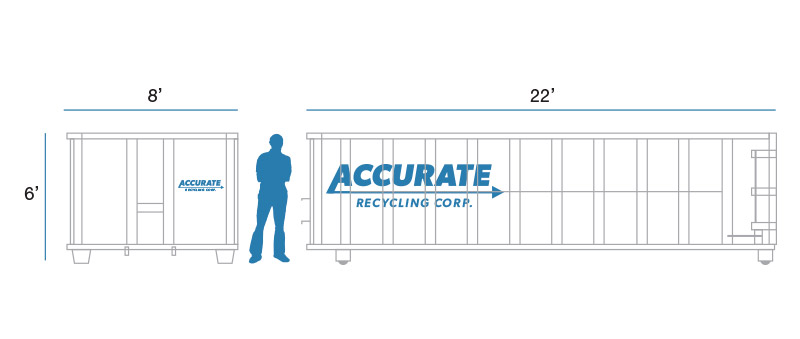 Large residential or mid-size commercial jobs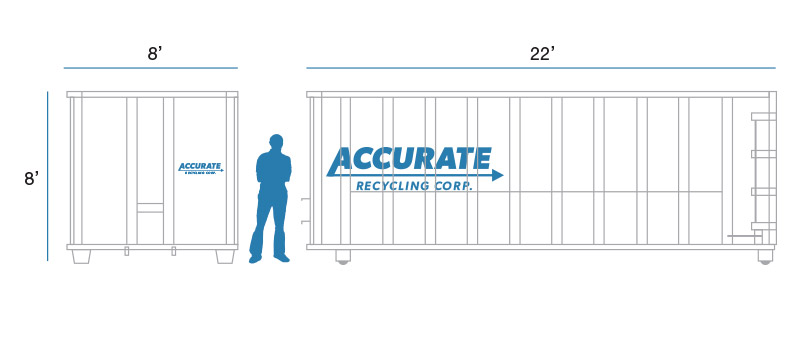 Landscaping projects or large commercial jobs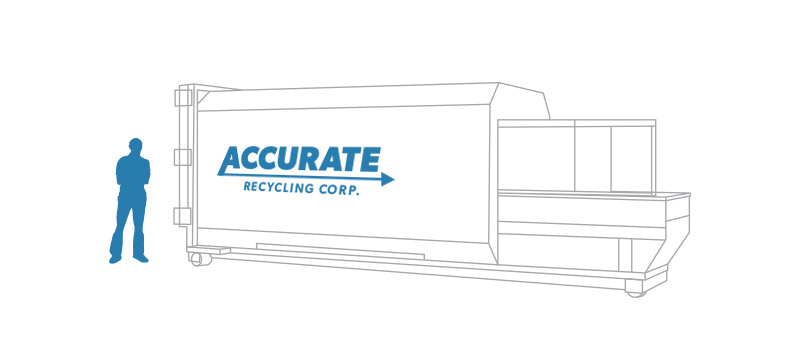 Compacting of trash, recyclables, etc.
What Size Dumpster Do You Need?
People often underestimate the amount of junk they have during renovation, construction, and cleanout projects. A 10-yard dumpster sounds like it holds a lot of waste until you put a couch in it and realize it's not quite as much space as it sounds.
A good rule of thumb is to choose a dumpster 1 size larger than you think you'll need. But, if you're looking for more information to help you decide what size roll-off dumpster you need for your Philadelphia project, we have an article for that.
Industry Expertise
Over the decades, Accurate has worked with industries of all kinds throughout Philadelphia, including food services, retail, manufacturing, construction, and more. Thanks to our experience, we can provide the perfect dumpster rental service for your business.
Does your dumpster need to be in a specific location to comply with Philadelphia laws and regulations? Does it need to be dropped off and/or picked up at a specific time? Do you need additional help selecting the right dumpster for your needs? Our experts have seen and done it all and are ready to help.
Flexible Dumpster Rentals in Philadelphia
Accurate Recycling's Philadelphia dumpster rental service is flexible enough to accommodate your needs. One of the main advantages of working with a privately owned waste removal company is that we can offer you more personalized service. Whether you need daily, weekly, monthly, or on-call dumpster service, we can deliver. Our large inventory of dumpsters is always ready to be put to use.
Dumpster Rental Prices
The prices of Accurate's Philadelphia dumpster rentals are based on a number of factors including the location of your project, disposal facilities, dumpster size, weight and volume of waste, and the types of materials being disposed of. Contact us for detailed pricing based on the specifics of your project.
Contractor References
Are you a home or business owner looking to get your next construction, renovation, or demolition project underway? Accurate has partnered with many Philadelphia area contractors and we can offer excellent references upon request. That's the kind of above-and-beyond service you can expect when working with us.
Renting a Dumpster in Philadelphia
Philadelphia has strict rules, regulations, and instructions when it comes to disposing of waste. Whether you're a homeowner, business owner, or contractor, you'll have to comply with Philadelphia's dumpster laws when renting a dumpster.
Temporary Construction Dumpster Permits
Do you not have private property on which to place your roll-off dumpster? Then you'll need to obtain a temporary dumpster permit from the Philadelphia Streets Department. You can contact them at 215-686-5500 to get the necessary permits before scheduling your dumpster rental.
More information on Philadelphia dumpster laws: https://www.phila.gov/services/permits-violations-licenses/get-a-license/business-licenses/dumpsters/
Schedule a Dumpster Rental Today
Whether you're a company working out of Center City or a homeowner preparing for renovations, Accurate Recycling has a dumpster to fit your needs. Fill out the form below or give us a call at 610-623-7772 for more information on renting a dumpster in Philadelphia.